Dr. Felipe Anaya
---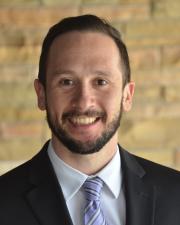 Assistant Teaching Professor
Director of Chemical Engineering Laboratories
Director of Chemical Engineering REU - IDEA Incubator
Education
—
B.S. in Chemical Engineering, National University of Colombia, 2012, Bogota, Colombia
M.S. in Chemical Engineering, University of Oklahoma, 2014, Norman, OK
Ph.D. in Chemical Engineering, University of Oklahoma, 2018, Norman, OK
Teaching
—
CPE 616: Chemical Engineering Laboratory I
CPE 626: Chemical Engineering Laboratory II (Unit Operations Laboratory)
 
Selected Publications
—
F. Anaya, D.E. Resasco. Enhanced Fischer-Tropsch Synthesis Rates by the Combined Presence of Aqueous and Organic Media in Biphasic Systems. ACS Catal. (2020).
T.V. Bui, N. Duong, F. Anaya, D. Ngo, G. Warakunwit, D.E. Resasco. Chemistry of C-C Bond Formation Reactions Used in Biomass Upgrading: Reaction Mechanisms, Site Requirements, and Catalytic Materials. Chem. Catal. Biomass upgrading. (2020) 207 – 297.
F. Anaya, L. Zhang; Q. Tan, D. E. Resasco. Tuning the acid–metal balance in Pd/ and Pt/zeolite catalysts for the hydroalkylation of m-cresol. J. Catal. 328 (2015) 173–185.
Selected Presentations
—
F Anaya, DM Griffin, MB Shiflett (2022). A Novel Approach for Laboratory Experiments in Process Dynamics and Control. Education Division: Chemical Engineering Laboratory Experiments and Instruction. Annual Meeting AiChE meeting, Phoenix, AR. November 2022
F Anaya, DM Griffin, MB Shiflett (2022). A State-of-the-Art Pilot-Scale Distillation Column for the Unit Operations Laboratory at the University of Kansas. Education Division: Chemical Engineering Laboratory Experiments and Instruction. Annual AiChE Meeting, Phoenix, AR. November 2022
F. Anaya, D. E. Resasco (2017). Enhancement of the Activity and Selectivity of the Fischer-Tropsch Synthesis with Water/Oil Emulsions. Catalysis and Reaction Engineering Division: Liquid Phase and Reaction Engineering. Annual AiChE meeting, Minneapolis, MN. November 2017
F. Anaya, D. E. Resasco (2014). Liquid Phase Hydrodeoxygenation of Phenolic Compounds: Tailoring the Formation of Alkanes Suitable for Diesel or Gasoline. Inorganic and Organometallic Chemistry. 59th Annual Pentasectional ACS Meeting, Stillwater, OK. April 2014
L. Nie, F. Anaya, D. E. Resasco (2014). Acid/Metal Balance in Bifunctional Conversion of Cresol to Hydrodeoxygenated Compounds via Alkylation, Dehydration, and Hydrodeoxygenation. Catalytic Processing of Fossil and Biorenewable Feedstocks: Fuels I. Annual AiChE meeting, Atlanta, GA. November 2014