Colby Arnold
---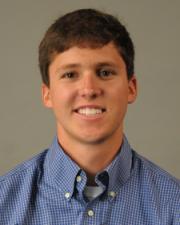 Advisory Board Member
Reservoir Engineer II
Biography
—
Colby P. Arnold is a Reservoir Engineer II in the Rockies district at Chesapeake Energy Corporation in Oklahoma City. Colby is responsible for subsurface assessments, economic evaluations, and technical analysis for a vast wellset spanning several geologic horizons in Wyoming's Power River Basin.
Prior to his current role in reservoir engineering, Colby spent 4 years serving as a Production Engineer for Chesapeake in the Utica Shale of Eastern Ohio. During this stint, he was in charge of artificial lift installation, production optimization and budgeting/planning for Lease Operating Expenses.
As part of his training for this role, he was certified as a Lean Six Sigma Green Belt.
Colby earned his B.S in Mechanical Engineering from KU in 2013 and is currently pursuing his Master's in Business Administration from the University of Oklahoma with an anticipated graduated date in May of 2018. Colby is originally from Topeka, KS and currently resides in Nichols Hills, OK.
Education
—
B.S. in Mechanical Engineering, University of Kansas, 2013
MBA in Energy Specialization, Univerisity of Oklahoma, 2018